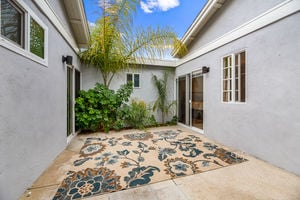 Orange County, California, known for its vibrant lifestyle and architectural diversity, boasts a hidden gem from the mid-century modern era—the iconic Eichler Homes. Designed by visionary developer Joseph Eichler, these distinctive residences have left an indelible mark on the region's architectural landscape. In this article, we will take a closer look at Eichler Homes in Orange County and celebrate their enduring appeal, innovative design, and the legacy they represent.    
A Vision of Modern Living:Joseph Eichler envisioned a new kind of housing—one that embraced open spaces, natural light, and a seamless connection between indoor and outdoor living. Eichler Homes perfectly exemplify this vision, incorporating elements such as floor-to-ceiling windows, open floor plans, and atriums that bring nature inside. Their clean lines, flat roofs, and post-and-beam construction showcase a unique architectural style that remains timeless even decades later.
Blending Nature and Architecture:
Nestled within Orange County's picturesque neighborhoods, Eichler Homes seamlessly blend with their natural surroundings. The use of large windows and glass walls allows abundant natural light to flood the interiors while providing uninterrupted views of the lush landscapes. Private courtyards, atriums, and outdoor living spaces enhance the harmonious integration of nature and architecture, creating a tranquil and serene living experience.
Iconic Features:
Eichler Homes are known for their distinct architectural features that set them apart. Atriums, centrally located within the homes, serve as open-air gathering spaces, bringing the outdoors inside and fostering a sense of community. Exposed beams, tongue-and-groove ceilings, and radiant floor heating are other signature elements that add to the charm and character of these mid-century marvels.
Neighborhoods of Eichler Homes in Orange County:
Orange County is home to several neighborhoods that feature Eichler Homes, each with its own unique charm. For instance, Fairhills in Orange showcases a cluster of Eichler residences surrounded by rolling hills and mature trees. Other notable areas include University Park in Irvine and Greenbrook in Fountain Valley. Exploring these neighborhoods allows enthusiasts to experience the true essence of Eichler Homes and their contribution to mid-century modern architecture.
Preservation and Appreciation:
Preservation efforts have been instrumental in maintaining the authenticity and architectural significance of Eichler Homes in Orange County. Homeowners and enthusiasts have come together to restore and preserve these architectural treasures, ensuring that their iconic design elements and historical value are celebrated for future generations to appreciate.
Conclusion:
Eichler Homes in Orange County represent an enduring legacy of mid-century modern design and innovation. With their seamless integration of nature and architecture, open floor plans, and iconic features, these residences continue to captivate homeowners and architectural enthusiasts alike. As you explore the neighborhoods featuring Eichler Homes in Orange County, immerse yourself in the unique blend of style, functionality, and timeless elegance.